Van 20 tot en met 30 juli 2017 is Wrocław (Polen) het decor van de World Games. Voor dit internationale vierjaarlijkse multisportevenement heeft Nederland zich met 79 sporters gekwalificeerd in 14 sporten. Handboogsporters Mike Schloesser, Peter Elzinga en Sanne de Laat vertegenwoordigen Nederland op het onderdeel Compound target.
Mike, Peter en Sanne de Laat gaan onze eer hoog houden bij het handboogtoernooi (28 – 30 juli, outdoor, compound). Schloesser werd wereldkampioen in 2013, in 2015 pakte hij met het landenteam goud op het EK indoor en in 2016 won hij de World Cup-finale. Momenteel is Schloesser de nummer twee van de wereldranglijst. Elzinga (foto) won zowel individueel als met het landenteam twee EK-titels en hij is de nummer een-en-twintig van de wereld. De Laat maakte vorig seizoen haar debuut in het internationale circuit. Schloesser en De Laat doen voor het eerst mee aan de World Games. Elzinga was al van de partij in Cali (2013), waar hij vijfde werd
Het team

FACTSHEET: TARGET ARCHERY
Locatie: AWF WITELONA (kwalificatie), CENTENNIAL HALL (Finales)

Datum: 29-30 juli

Aantal atleten: 48 (24 heren, 24 dames)

Aantal medailles: 3 (compound heren, compound dames, mixed team compound)

Titelverdedigers: Reo Wilde (USA) en Erika Jones (USA)
World Archery Beginners Guide to Archery at the World Games
Toernooischema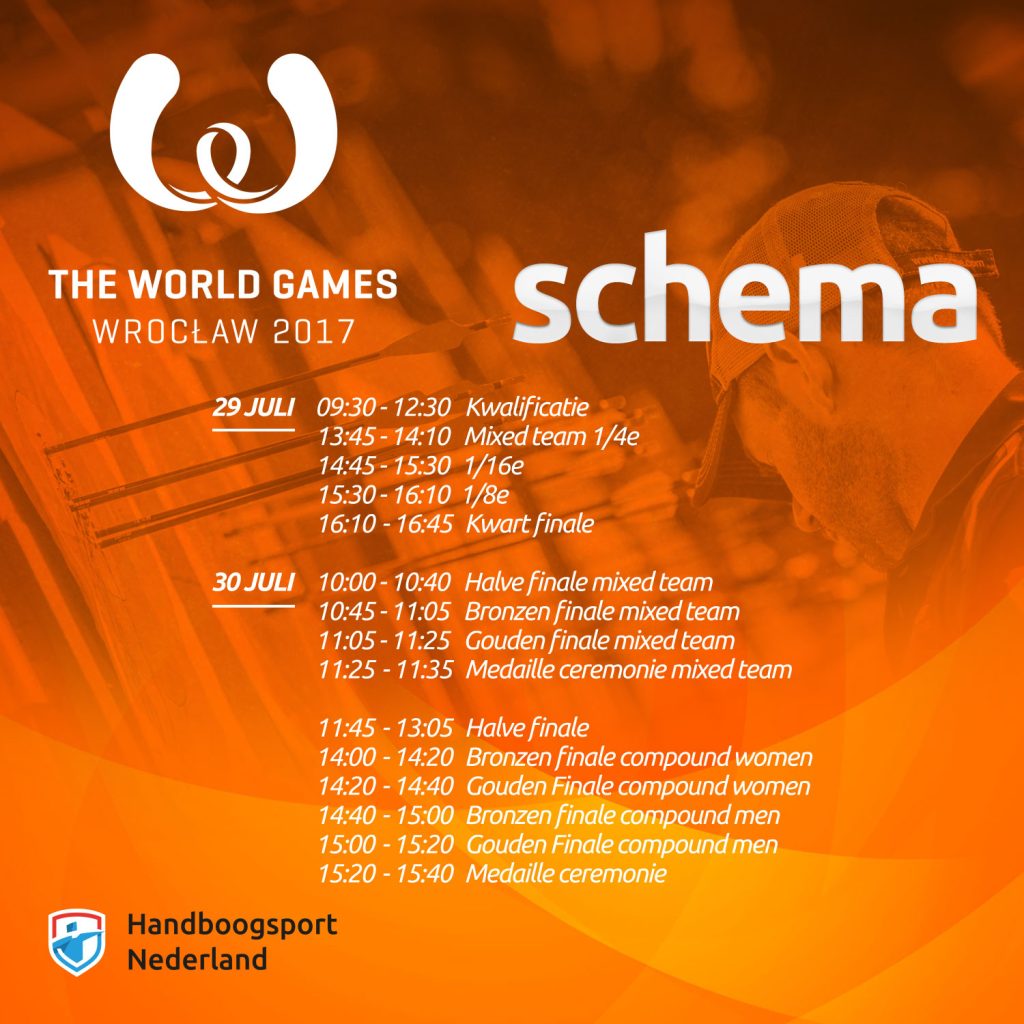 THE WORLD
GAMES
NL
De World Games duren van 20 tot en met 30 juli. De Nederlandse delegatie is te volgen via TheWorldGamesNL.nl en op Facebook, Twitter en Instagram onder TheWorldGamesNL. Het op één na grootste multisportevenement ter wereld zal ook te volgen zijn in de landelijke media. Zo zal Telesport, het sportkatern van De Telegraaf, de World Games zowel in de krant als online coveren.